FOTI #21: Deadspin Sacks Manti Te'o
Fortnight on the Internets has a girlfriend who lives in Canada!
This episode is all about sports and internet dating, especially when the two collide in horrible ways, as in the Manti Te'o fake internet girlfriend hoax/debacle. We're also joined by the brilliant Brett Weiner, a comedy video craftsman and an expert in branded content, who tells us about the best and worst things that happen when consumer products try to be cool on the internet. With music from Jenny O and the latest great finds by our Likers!
Four ways to listen:
If you subscribe or become a Liker, you'll be able to get to new episodes faster than everyone else. We've also continued our tradition of leaking out the topics on our @FOTIpod Twitter account, where we often have fun interactions with the people and sites we talk about on the show…
Pics or no one will ever believe you: Alison's Instagram proof of partying with Bill Murray.
Not shown: Clooney, DiCaprio, and Murray "triangulating" around Alison on the dance floor. But I (Alpine) choose to believe that because it's basically the best thing ever.
Internet Report Card
Our opening report card item is Deadspin.com's shocking and media-narrative-shattering exclusive bombshell regarding the biggest hoax in college sports.
While other, more "reputable" media outlets breathlessly reported the bogus tale of Manti Te'o's dying girlfriend who inspired him to lead his team to glory, only Deadspin did the legwork to prove that either the Notre Dame linebacker was the victim of evil "catfishing," or a truly sociopathic media hoaxer. Or both!
There were a lot of great exchanges on Twitter about this unbelievable tale, but this is maybe the best: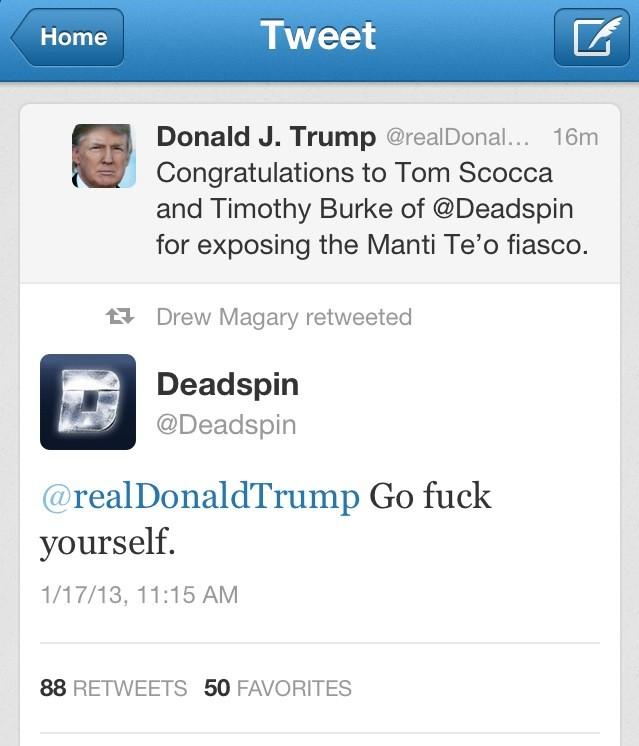 Also, here's an incredible comment that a friend-of-a-friend-of-Alpine posted on Facebook. It's so money.
I don't find this Manti Te'o thing implausible. I certainly had dates where the girl didn't show up & am reasonably sure at least one may have faked her death to avoid going out with me. This just isn't so odd to the rest of us who weren't Heisman finalists. So let's make the #5 ND jersey a symbol for everybody who ever invented a girlfriend or boyfriend- you know who you are- or went to a prom with a cousin or spent a Saturday night at home telling yourself you wanted to watch "Sisters." That last part might have been too self-confessional.
Huge thumbs up to Deadspin.
Rob Delaney's dramatic reading of baseball prospect scouting reports is perfect. The timing couldn't be better, with prospectin' season upon us and spring training right around the corner. And Delaney truly nails the pulsating sexuality exuded by this collection of scouting reports assembled by Sam Frank of Harper's.
We know our listeners are huge Bad Lip Reading fans, as evidenced by the Youtube channel's triumph in the Best of 2012. That's why we know you will love the channel's new video, "NFL Bad Lip Reading." The simplistic cadences and raw emotion of the National Football League lend themselves perfectly to the BLR style — and you have to appreciate the subtle sound engineering that really makes this video incredible.
Our Musical Guest
Here's a GREAT new artist that we heard about via bestnewbands.com. Jenny O's a LA-based singer-songwriter whose songs are catchy and fun — sort of alt-country, but at times veering into different genres altogether.
Her debut album, Automechanic, is out Feb 5th, so stay tuned for that. SF-local fans of Jason Lytle (of Grandaddy fame) should check out their show together in Feb 26th. And if you like the tracks we sampled on this episode, check out her EP Home on her bandcamp site — and be sure to become a Jenny O Liker at her Facebook page!
Internet Challenge Surprise
Alison delivers a great article from Refinery29.com entitled, "15 Super-Specific Dating Sites For Weirdos Like You (And Us)." We celebrate the most hilarious selections and discuss which of these dating sites WE'D most like to try.
Highlights include:
LARP Passions: For people who "get it" when it comes to live action role playing
Twins Realm: Ever had your twin relationship get in the way of your love life? Never again when you're dating another twin!
Find Your Face Mate: For the true narcissist
Ghost Dating: Fire up the potter's wheel!
Sea Captain Date: For people who get horny watching The Perfect Storm
Vampire Dating: Of course this exists
Branded Content Banter with Brett Weiner
Joining us for this fascinating segment is the highly talented Brett Weiner, who works at Break.com and, among other things, develops branded internet campaigns for a variety of consumer products. He walks us through what works and what doesn't work when famous brands try to be cool on the Internet.
You might know Brett from his hugely successful Channel 101 series The Parent Project (originally titled The Parent Experiment), which features his hilarious mom (nom de plume Genevieve Beaujolais).
Brett explains what DOES work: hire someone funny, trust them to do their job, don't be afraid to get weird, and most of all, be HONEST about your product — even in a way you would never do in a television ad.
Some great examples of the form:
Brett also cites this fake ad from The Invention of Lying as the prototype for all ads on the Internet.
But perhaps the best part of this segment is the HOW-NOT-TOs, like the companies that obsess over their perfect customer and can't get out of the television-commercial box. Wise up, marketing executives…nobody goes on the internet to watch the same ads they just skipped over on their DVRs!
Thanks to Brett for his outstanding insight. And if you enjoyed this segment, be sure to check out the Honest Trailers and other gems Brett helps create for Screen Junkies:
Shoutout to the Likers!
Liker of the Fortnight is Liker Mike D from the amazing podcast Kissing Contest! Mike received this coveted honor for his always compelling submissions like an "exponentially layered" version of Call Me Maybe apparently created by experimental musician Dan Deacon — and for talking FOTI-related smack on the air to his co-hosts.

More great stuff from our Likers and our Facebook page…
RIP AARON SWARTZ.
Thanks to Laurel Stearns for musical assistance.
Theme song by Snowplows: Check out their songs on Bandcamp!
Cover art by Vicious Rumors.